CRDN
The Kansas City and Southwest Missouri Team

CRDN's on-site response team has developed the system that excels under extreme pressure. Honoring the priorities and sensitivities of everyone involved, we have proven it's possible to perform to the complete satisfaction of the homeowner, the adjuster assigned to the claim, the insurance agent who owns the relationship, and the contractor charged with putting the home back together.
Our customer service representatives (CSRs) arrive at the home trained and ready to assess the situation. They begin by conducting a thorough room-by-room inventory of damaged items, then sort and bag them for safe delivery to our facilities for restoration. There, we itemize and catalog the items in our state-of-the-art computerized system. This sophisticated technology allows us to input, process, track, restore and securely store each item and allows for seamless communication between CRDN, the homeowner, the insurance representatives and the restoration contractor.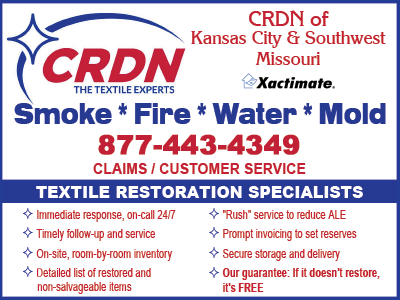 RESUME: Right, on Time
The processes we have created and the technology we use lead to unmatched precision and consistency. We get it right, and we get it back to the property owner. On time, every time. Every challenge…everywhere we do business. CRDN removes odor, soot, grime, mold and mildew from clothing, bedding, rugs, leathers, suedes, furs, draperies, linens, stuffed animals, shoes, hats, belts, purses…the list goes on and on.
But even more important than saving textiles, we salvage memories, we restore happiness, and we help those affected by the loss to resume everyday life, getting back to what truly matters.